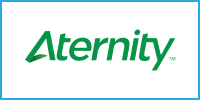 ServiceNow Integration Enables IT to Decrease the Time to Detect and Resolve End-User Device Issues to Expand DEM Platform's Value During Remote Work Era.
 Aternity®, the enterprise-class Digital Experience Management Company™, today announced it received certification of its new integration with ServiceNow, which is available in the ServiceNow Store. The Aternity Digital Experience Management (DEM) Platform successfully completed a set of defined tests focused on Now Platform security, compatibility, performance, and integration interoperability to earn its certification from ServiceNow and placement in the Store.
Delivered via SaaS, the Aternity Digital Experience Management Platform is a robust and high-availability DEM solution that provides the insights companies need to ensure productive workforces, reduce IT-related costs, and improve employee and customer satisfaction. With millions of endpoints from hundreds of customers under management, Aternity's platform empowers companies to keep pace with rapidly changing technology environments and identify IT investments that can positively impact the digital employee experience for both office and remote workers.
The availability of the new Aternity application in the ServiceNow Store enhances the Aternity platform's existing integration with ServiceNow. Aternity integrates with the ServiceNow Incident Management module to decrease the time necessary for IT help desk professionals to detect issues on end-users' devices and speed resolution. With this integration, Aternity provides real-time notification of end user experience issues to the ServiceNow console, and ServiceNow users can drill down to investigate end user and device performance and health issues.
Aternity uniquely monitors the response time as experienced by end-users for any type of local, web, cloud-delivered or mobile application. Aternity's Service Desk Alerts functionality triggers a device alert when an adverse performance event is detected that meets certain conditions defined by IT teams in the Aternity console. Through this integration, the alerts are pushed as an incident in ServiceNow with both a reference to the alerted computer in ServiceNow's configuration management database (CMDB) and embedded links to Aternity dashboards for further troubleshooting.
"The massive shift to remote work has put an extreme burden on IT service desks responding to a new, more complex set of end-user issues," said Raviv Chalamish, Aternity's Vice President of Products. "This creates a more urgent need for automation such as what we're delivering through the Aternity-ServiceNow integration. The ability to drill down from incidents in ServiceNow directly to the affected device dashboards dramatically expands the capacity and value of IT to resolve issues and help increase end-user productivity in the era of remote work."